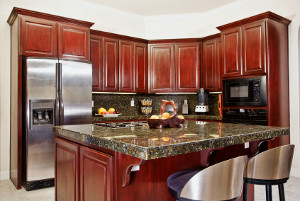 FAB Granite and Tile, Inc. of Fredericksburg VA carries a full line of quality cabinetry, cabinet doors and hardware for replacement or new installation of kitchen cabinets, bathroom cabinets, bathroom vanities and kitchen islands.
We will remove your old cabinets and install replacement cabinets in your kitchen, bathroom, library, family room, entertainment room or office. With one stop shopping you can find quality cabinets and a wide selection of granite, tile and stone products to match. The right cabinets will accentuate the colors in your granite countertops and will add style and beauty to your home and each room.
With our wide choice of styles, colors and finishes you will be sure to find just the right kitchen cabinets or bathroom cabinets to meet your taste, design and budget.
Fab Granite & Tile has been servicing the Northern Virginia, Fredericksburg, Stafford, Spotsylvania and Richmond areas with installations and replacements of granite countertops and cabinetry for many years and have satisfied many homeowners and businesses with our quality products and professional workmanship.
We have cabinets to meet any need and budget with a variety of finishes and colors to rejuvinate and enrich your office, kitchen, bathroom, den, library or family room. We provide quality wood cabinets at reasonable prices to our customers.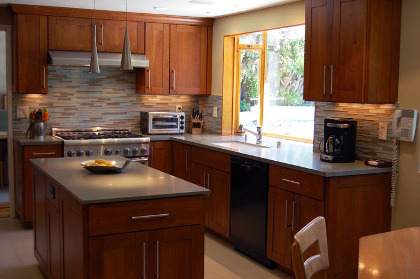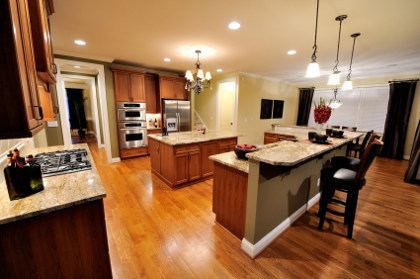 We invite you to call, email us or visit our showroom on Route 17 just off exit 133 of Route 95 to see our wide selection of granite and stone products and our quality wood cabinets. If you are considering or have plans to replace your kitchen cabinets, bathroom cabinets and possibly coordinating stone or granite countertops, you should stop by and view our selection. You will be glad you did!
You're considering remodeling or renovating your complete kitchen or bathroom with new granite countertops and quality cabinets we invite you to call or come by Fab Granite & Tile in Fredericksburg, Virginia for great prices, quality products and professional workmanship.
Fab Granite & Tile prides itself in providing high quality granite countertops, stone products, tile products, kitchen cabinets, bathroom cabinets and cabinetry for any room in your home or office with professional service and workmanship while installing your new cabinets and granite countertops.